Versatility Professional Tool Storage
Heavy Duty Storage Cabinets
Versatility has combined innovative engineering and manufacturing experience to create the ultimate in modular heavy duty storage cabinets. Versatility cabinets make it easy to sustain and standardize; keep items sorted and inventoried; easy to straighten and locate for simple retrieval while keeping them shiny, clean and protected.
For simplicity, Versatility offers preconfigured four, six, seven, eight, nine and ten-drawer heavy-duty modular cabinets. Each cabinet includes the most requested drawer divide insert kits. Choose one of the five heavy duty storage cabinets below. Preconfigured or custom, Versatility has the flexible solution that's perfect for your storage and organization needs. Preconfigured Cabinets are stocked and can be shipped immediately.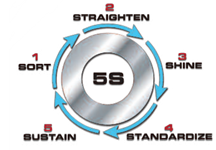 Benefits
Increase productivity and save time.
Save space. Increase organization.
Get more out of your floor space.
Compliments "Lean" and "5S" Initiatives.
Applications
Small Parts Storage
Tool Storage
Maintenance & Service Storage
Miscellaneous and Bulk Storage